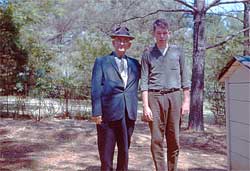 J.D. Wroten, Sr (1885-1963) was a minister for the United Methodist Church (formerly MEC South), North Mississippi Conference from 1913 until his death. His appointments included Ripley, New Albany, Indianola, Water Valley, Columbus, Louisville and others.
"Dausey", as some called him, is pictured on the left with me (upper) and with my grandmother (lower). Both photos were taken at our house on Old Canton Rd, Jackson, MS.
We are fortunate to have the sermon notes that span his many years of service, as well as two papers likely prepared in his days at Millsaps College. The notes are remarkably well organized, not surprising to those who knew him. The notes are also in reasonably good condition and legible, even the hand written ones. Some have dates and location indicated. Many times, I have observed, location indicated is the secondary place the sermon was used; the original location often was not noted. In cases where the only the date or location is noted, the other can be found from the list of appointments. One sermon is in audio format: The Expendable.
The "Sermon Page" link takes us to a page for viewing the sermons. The viewing format is Adobe Acrobat PDF. There you will find the collection, which can be sorted by title.
The memoirs linked below were those published by the Methodist Journal at the time of passing. The appointments were provided courtesy of the Millsaps-Wilson Library, Jackson MS.
The collection presented on this site consists of 404 typed and handwritten sermons and one sermon in mp3 audio format. The original manuscripts were donated to the J.B. Cain Archives of Mississippi Methodism, Millsaps-Wilson Library, Jackson MS. The library's archival holdings for the J.D. Wroten, Sr. papers contains a biography and list of the documents on file.
Additional Pages